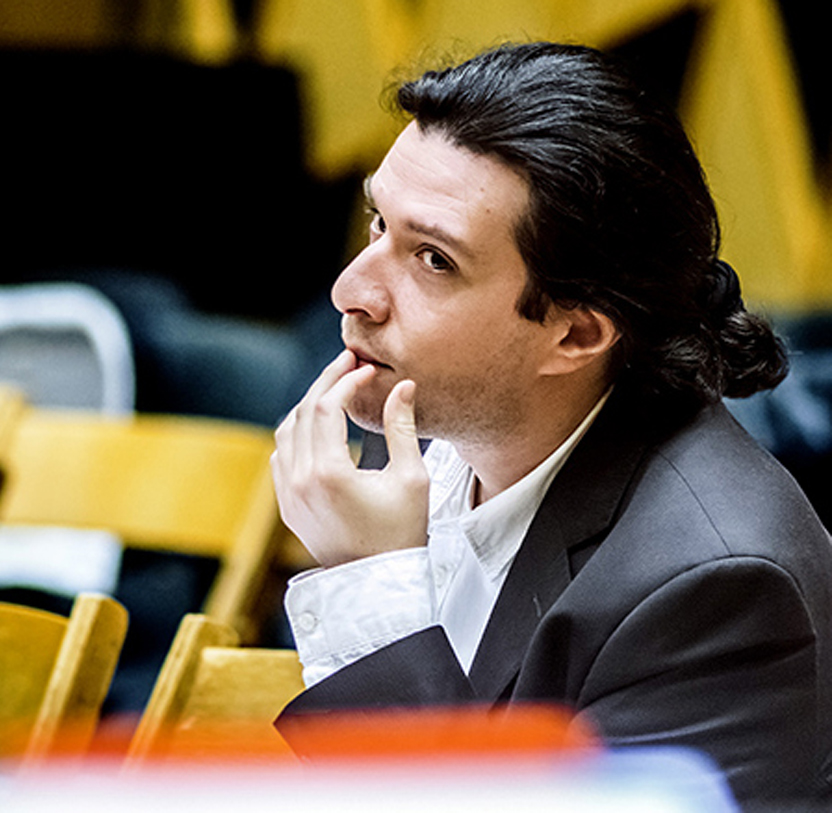 Alessio Elia
*24 April 1979
Biography
Described as an unicum in the compositional landscape of our times (Il Corriere Musicale) Alessio Elia has gained international recognition thanks to his Polysystemism, the simultaneous use of different tuning systems, discussed in many conferences and lectures, among them the one at "Centre de documentation de la musique contemporaine" of the Cité de la Musique in Paris. Articles and essays on Polysystemism have been published by von Bockel Verlag, l'Université de Strasbourg, the Hungarian Academy of Arts and the University of Prague, as well as the subject of a master thesis degree at the Academy of Music of the Italian Switzerland in Lugano.
Elia received commissions most importantly from I Solisti del Teatro alla Scala di Milano (Octet), piece released in CD by Warner Classics in 2018, under the baton of Andrea Vitello; Radio Bartók (orchestral piece Trasparenze); Alter Ego ensemble (Altered memories) for a project including commissions to Eötvös, Hosokawa, Ablinger, L. Ligeti and Howard Skempton; Impronta ensemble conducted by Andreas Luca Beraldo and Oggimusica Festival in Lugano (Traces from Nowhere); UMZE - the historical ensemble founded by Bartók (Ekpyrotic Suicide); Wiener Collage (Outskirts of matter); Antal Dorati Conducting Competition (Distimement for large orchestra) as a complusory piece for the final round of the conducting contest; Stuttgart Kammerchor and Frieder Bernius (Incantesimi di Merseburg).
His music has been performed in significant concert halls and festivals worldwide (Auditorium Parco della Musica in Rome; Grand Hall of the Liszt Academy in Budapest; Menuhin Festival in Oslo; Festival Erkel-Mahler in Budapest; Accademia Filarmonica Romana; BMC - Budapest Music Center; Bartók Hall of Palace of Arts – The National Auditorium in Budapest; Levinsalen and Lindemansalen in Oslo; Arnold Schoenberg Center in Vienna; Kongresshaus Stadthalle Heidelberg; Mannheimer Kunstverein; LAC - Lugano Arte e Cultura Auditorium; National Hungarian Radio Studios; Forum Neue Musik - Palais Prinz Carl in Heidelberg; Auditorium del Parco by Renzo Piano in L'Aquila; Oggimusica Festival in Lugano; Contemporary Arts Festival Budapest; Yamaha Concert Hall Wien, etc.).
Ten portrait concerts of his music have been organized in Budapest, Oslo, Mannheim and Rome.
STUDIES
Trained internationally he studied composition in Italy, Hungary and Germany, graduating at the S. Cecilia Academy of Music in Rome under the guidance of Giovanni Piazza. He completed postgraduate courses in Italy at the National Academy of Music S. Cecilia in Rome and at the Chigiana Academy of Music in Siena, and abroad at the Internationales Musikinstitut Darmstadt with Brian Ferneyhough, Toshio Hosokawa, and Georg Friedrich Haas, as well as at the Liszt Academy of Music in Budapest with Zoltán Jeney.
Consultations with Norwegian composer Lasse Thoresen also had a significant role in the process of his professional development.
He obtained the post-master's degree in Composition at the Hochschule für Musik Mannheim, studying with Sidney Corbett, a former student of György Ligeti.
Elia earned his PhD cum laude at the University of Rome Tor Vergata with a dissertation about the Hamburgisches Konzert by Ligeti (first comprehensive monograph on this topic).
About the music
What is more evanescent than sound? What is closest to immaterial among the manifestations of the perceptible realm, if not music? Although this has been noted since the dawn of time, music in its historical path has fallen into the error of becoming a language. It has certainly reached peaks of inestimable beauty and depth of thought, but it has gradually moved away from its ethereal essence and I would even say magical-alchemical dimension. During my career as a composer, I have tried to trace music back to what I believe to be its most authentic origins, and I have tried to organize the sound according to the ways in which we perceive it, making Berkeley's expression my own, according to which "being is being perceived". In the search for a meaning of music as sensation, I have developed a compositional technique that I call polysystemism, that is, the simultaneous use of different tuning systems in order to create acoustic phenomena on which to base my music.
Alessio Elia
ABOUT ELIA'S MUSIC
«Alessio Elia makes truly interesting music, one that is complex in the writing and in its conception, and at the same time works very well for listening. And this is what matters».
Péter Eötvös, Hungarian composer and conductor (la Repubblica, Italian newspaper)
«An unicum in the compositional landscape of our times».
Stefano Cascioli, Italian composer, violinist and pianist (Il Corriere Musicale)
«A rising star composer».
Elena Abbado, Italian musicologist (in NIGHT ITALIA February 2017)
«By using different intonations Alessio Elia creates a sound image of the different theories of superstrings».
Jean-Claude Risset, French composer
«An excellent composer whose music projects the micro-world up of gigantic sound screens in such a way that the particulars, enlarged, not only from afar but also from very close are preciously elaborated down to the smallest detail».
Szabolcs Molnár, Hungarian critic (in Magyar Narancs - May 2019)
«Mr. Elia is a very fine composer. He has a very broad knowledge in many aspects of the arts and philosophy. It was an immense pleasure to exchange ideas on the huge field of music with him».
Manfred Stahnke, German composer (Hochschule für Musik und Theater Hamburg)
«It is not easy to place Elia somewhere, but I think that Alessio Elia doesn't want to be 'placed' in a school or tendency. His music seems to invite us to an aesthetic, even sensual, abandonment. But this abandonment is the result of a careful activity, of an idea of structure in which the writing never loses control. The abandonment becomes architecture, the liquidity solidifies in the act of punctilious, even insidious writing».
Claudio Morandini, Italian writer
«Those infinitesimal vibrating strings that make up the smallest particles of matter and that create the energy of the universe seem really the dense and primordial nuclei from which the "sound of Elia" radiates».
Guido Barbieri, Italian critic and musicologist (RAI - RADIO 3)