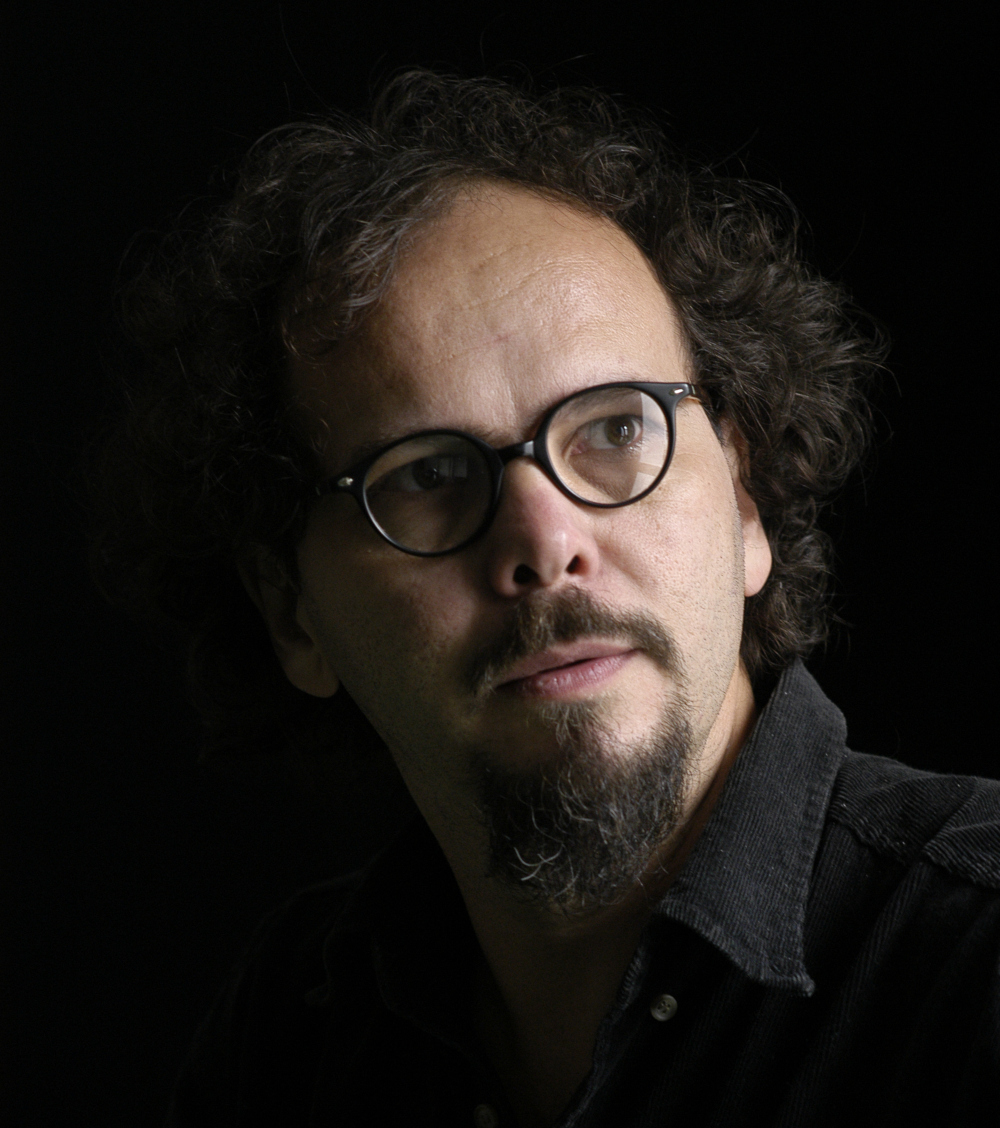 Flo Menezes
*18 April 1962
Biography
Flo Menezes (São Paulo, 1962) is considered one of the leading composers of his generation. With a solid work in several genres – orchestral music, opera, chamber music, mixed electroacoustic music, acousmatic music, works for choir, solo instruments with or without interaction with electronics in real time and deferred time –, he is the holder of several international awards: TRIMALCA (1993), Ars Electronica (1995), Luigi Russolo (1996), Sérgio Motta Prize (2002), Bolsa Vitae (2003), Diapason d'Or (2006), Giga-Hertz-Preis (2007; this one with P. Boulez, W. Rihm and H. Vaggione in the International Jury), etc.
His work has been premiered at Carnegie Hall in NY and in important theaters around the world, and his music has been performed at international festivals and by renowned ensembles and orchestras: Ensemble Recherche, Ictus, New Century Players, Ensemble Orchestral Contemporain, SWR Vokalensemble and Neue Vocalsolisten Stuttgart, Arditti String Quartett, Contrechamps, Contemporary Chamber Players NY, Plural Ensemble Madrid, Sond'Ar-Te Electric Ensemble Lisbon, London Sinfonietta, PIAP (São Paulo), Collegium Novum Zürich, Les Percussions de Strasbourg, NYNME (New York New Music Ensemble), Camerata Aberta, OSESP, Tonhalle Orchester Zürich etc.
Since 1983 (at the age of 21), Flo Menezes has defined his music as maximalist, even before the New Complexity fad came to the fore. His music is built on a 5-Pointed-Star by which the composer defines 5 fundamental elements of composition: materials, variations, directionalities, connections and craftsmanship.
Since the 1980s, he has been developing techniques of musical writing with which he has been working: cyclic modules, proportional projections, pronunciation-form, rhythmic rotations, durative writing, etc.
As a theorist, he is the author of about 20 books, published in Brazil and Europe, such as the internationally awarded book on the work of L. Berio in 1990. He was a composition student of Willy Corrêa de Oliveira (1980-85) at the University of São Paulo (USP) and of Hans Humpert at the Studio für elektronische Musik in Cologne (1986-90), Germany, and took courses with Boulez (1988), Berio (1989), Pousseur (supervisor of his PhD in 1987-92), Ferneyhough (1995) and Stockhausen (1998), of whom he became teaching assistant at the Stockhausen Kurse in Kürten in 1999 and 2001.
He is Full Professor of Electroacoustic Music, founder and director of the main studio of the genre in Latin America: the Studio PANaroma, of Unesp (State University of São Paulo).
There are several entries about the composer in important encyclopedias, as those two below:
1) Die Musik in Geschichte und Gegenwart: Allgemeine Enzyklopädie der Musik
Article by Ralph Paland: Personenartikel "Menezes, Flo", in: Die Musik in Geschichte und Gegenwart: Allgemeine Enzyklopädie der Musik, 2., neubearbeitete Auflage, Hg. Ludwig Finscher, Supplement, Bärenreiter/Metzler, Kassel/Stuttgart, 2008, pp. 546-547. ISBN (Supplement): 978-3-7618-1139-9.
2) "Flo Menezes"
Long analytical essay (in German) on the composer and his works (26 pages) by Ralph Paland, in: KdG – Komponisten der Gegenwart, edition text + kritik im Richard Boorberg Verlag, Lieferung vom Juni 2014:
http://www.nachschlage.NET/document/17000000906
Website: www.flomenezes.mus.br
YouTube: https://www.youtube.com/channel/UCtmMj33DT6JvUGpNdvQ0zfg
About the music
At 21, I defined my music as maximalist: a complex musical writing, but whose complexity is guided mainly by a phenomenology of listening. A musical work must, in my opinion, take the listener by its sensitive and appreciable elements already at the first listening, but at the same time launch him into a labyrinth (Berio, agreeing with the poet E. Sanguineti, would say: into a laborinth), instigating him to re-listen, through which the listener will always discover new sound layers, new relations and new meanings. A bit like the true meaning of the open work (opera aperta) for Umberto Eco.
In this sense, I believe that my poetics is influenced by some of the great masters of the Neue Musik of the 20th century, notably by the works of Luciano Berio and Karlheinz Stockhausen. Maybe because I have double-citizenship – Brazilian and Italian – my bond with Berio's work is so strong, and Stockhausen's work, on the other hand, already attracted me when I was still a teenager. But the musical and theoretical works of Pierre Boulez and Henri Pousseur are also fundamental landmarks in my formation and in my thinking.
Since I was 24 years old, my work has acquired a special accent in electroacoustic poetics and acousmatic music, although I have not stopped writing purely instrumental or vocal pieces. I believe that new technologies constitute an inexorable advance for musical language, and it was in this sense that I worked as a composer at the prestigious Studio für elektronische Musik in Cologne, Germany, between 1986 and 1990. A stint at the Centro di Sonologia Musicale of the University of Padua, Italy, in 1991, and a residency at IRCAM in 1997 reinforced my involvement in the field of electroacoustic music, which led to the founding of the main studio of its kind in Latin America, Studio PANaroma, in 1994, which I still direct today.
At the head of Studio PANaroma (whose title comes from a word invented by James Joyce in his Finnegans Wake), I have been developing interactive works in deferred time and real time, besides acousmatic works. Sound spatiality constitutes one of the accents of my research in composition, and in view of this I founded PUTS – PANaroma/Unesp: Teatro Sonoro – the first speaker orchestra in Latin America, with its around 60 speakers.
The Maximalism that characterizes my music embraces, therefore, both markedly inharmonic sound spectrums (noises and complex sounds) and sounds of harmonic spectrum that, related, institute what I call harmonic entities. Based on these entities, I develop specific interval techniques of cyclic expansion (cyclic modules) and of compressions and dilations of the interval space (proportional projections), which I conceived as early as the 1980s and have been developing ever since. In this sense, Harmony plays a fundamental role in my musical work, even in acousmatic pieces, where the notion of interval is relativized.
Finally, recently I have been trying to innovate Musical Theater, confronting the more than problematic genre of Opera, trying to revolutionize it with works such as Ritos de Perpassagem and Oposicantos.