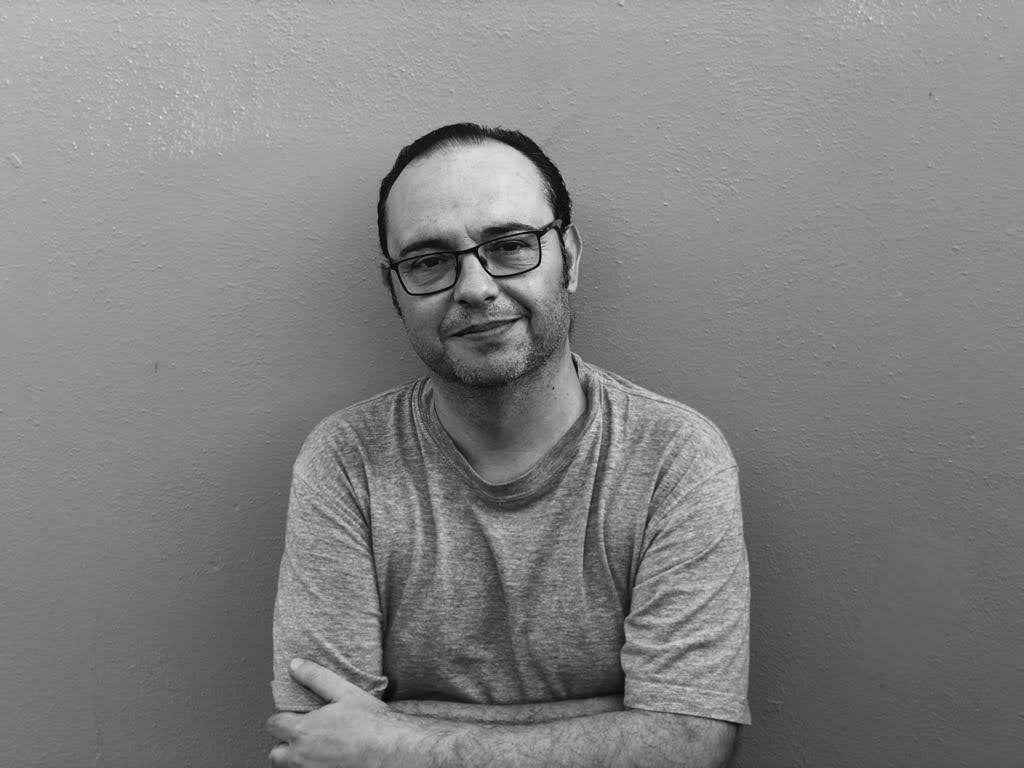 Mateo Soto
*18 April 1972
Biography
Mateo Soto was born in Cartagena (Spain) in 1972. He studied Composition at "Manuel Massotti Littel" Conservatory of Murcia with Manuel Seco de Arpe (Franco Donatoni's pupil), graduating with honours. He also expresses his gratitude to Salvador Brotons, Tomás Marco and Antón García Abril for their advice. He doesn't want to forget about the great Alfred Schnittke who he almost studied with.
He has received composition awards such as "SGAE Award 1993" (Spanish Society of Authors, Composers and Publishers), "Frederic Mompou International Award 1996" (Joventuts Musicals of Barcelona) and "Tribuna de Jóvenes Compositores 1997" (Juan March Foundation, Madrid). He has been selected in some editions of "Fifteen-Minutes-of-Fame" (USA), Isang Yun Centennial Project 2017 (USA), "250 Piano Pieces for Beethoven" (Germany), NETZWELLEN Social Media Piano Project 2017 (Germany),etc. He is winner of the Vonk Miniature Opera Project 2017 (Netherlands) and the "Sound-Magical-Space – S.M.S." 2018 promoted by Patricia Kopatchinskaja and Camerata Bern (Switzerland).
His music has been performed by international players, ensembles and orchestras such as Leonel Morales, Albert Nieto, Diego Fernández Magdaleno, Gabriel Escudero Braquehais, Sussanne Kessel, Martin Tchiba, Eunmi Ko, Kristin Leitterman, Paolo Carlini, Frano Kakarigi, Trío Mompou, Trio Bacarisse, Quartetto Bernini, Quatuor Tana, Spanish Brass Luur Metalls, Concertus Novo, Grupo LIM, Vonk Ensemble, Columbus Ohio Discovery Ensemble, London Chamber Group, London Consorts of Winds, Incontro - Ensemble für Neue Musik, Orquesta Sinfónica de Cartagena, Orquesta de Jóvenes de la Región de Murcia, Orquesta de la Universidad Autónoma de Aguascalientes, Orchestra Montecatini Terme, Camerata Antonio Soler, Camerata Bern, Moscow Symphony Orchestra, etc.
He has been at festivals and musical cycles such as the Contemporary Music Festival of the XX Century Music (Bilbao), Juan March Foundation Cycles, National Musseum and Arts Center Queen Sofia (Madrid), Spanish National Auditory of Madrid, CIMUCC, Conway Hall Cycles (London), Festival Musicale di Montecatini Terme (Italy), Boccherini Open (Italy), Festival Armonie della Sera, (Italy), Piano Stravaganza Festival (Bulgaria), Centre ArcA (Luxemburg), November Music (Netherlands), Willem II Concertzaal (Netherlands), Hochschule für Musik und Darstellende Kunst, Mannheim (Germany), Randfestspiele für Neue Musik (Germany), Moscow Conservatory (Russia), Australian National University, Boston Conservatory (USA), Manhattanville College (USA), Miami Dade College (USA), University of North Georgia (USA), Oklahoma State Univesity (USA), University of South Florida (USA), etc.
ost of his works have been recorded and broadcasted by RNE (Spanish National Radio), BNR (Bulgarian National Radio), SR 2 KulturRadio Saarbrücken (Germany). His works are published by Donemus (Netherlands) and Universal Edition (Austria).
He is member of SGAE (Spanish Society of Authors, Composers and Publishers) and CIMMA (Society of Composers and Music Researchers from Región de Murcia, Spain). He teaches Harmony, Musical Analysis and Fundamentals of Musical Composition at Cartagena's Conservatory (Spain).
About the music
His works are distinguished by a plural and inclusive aesthetic and tend to find the immediacy of the creative impulse and the musical result, with the intention also of communicating more readily with audiences. He is looking for balance between past and present, combining contemporary techniques with emotional elements in a non-tonal context.