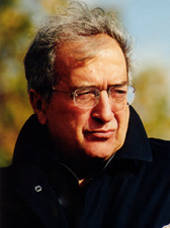 Luciano Berio
Accordo
Short instrumentation: Basic instrumentation of one band: 2 1 3 0 - 2 2 3 3 - perc(2), sop.sax, alto sax, t.sax or bass cl, flhn(6)
Instrumentation details:
Basic instrumentation of one band: piccolo
flute
oboe ad lib.
clarinet in Eb
1st clarinet in Bb
2nd clarinet in Bb
soprano saxophone in Bb
alto saxophone in Eb
tenor saxophone in Bb or bass clarinet in Bb ad lib.
1st horn in F
2nd horn in F
1st trumpet in Bb
2nd trumpet in Bb
6 flugelhorns: 1st soprano flugelhorn in Bb
2nd soprano flugelhorn in Bb
1st alto flugelhorn in F
2nd alto flugelhorn in F
tenor flugelhorn in Bb
baritone flugelhorn in Eb or baritone saxophone in Eb ad lib.
1st trombone
2nd trombone
3rd trombone
bass instrument in C
bass instrument in Bb
bass instrument in Eb
percussion(2)
This instrumentation is to be multiplied ad lib., with at least 400 players (according to the wishes of the composer).
Berio - Accordo for 4 wind bands
Hörbeispiel
Werkeinführung
Accordo is composed for four wind bands and an unlimited number of players. It is perhaps not a piece to be performed in concert, however, it consists of many different things: it is a meeting, a structure of gestures, a chord that spreads and creates different situations, it is a combination and, if placed in perspective, is versatile, with very simple and familiar musical elements, in fact a small homage to a great yearning for peace in the world. It is a paraphrase, a Festival dell'Unità, a processing of sound, a melody, a tribute to the musicians in the band, who, when getting together in the evening, forget how tired they are after a long day's work.

Accordo is also an experimental work in which I try to combine contradictions with seemingly irreconcilable musical dimensions, so it is also a transformation.
Accordo is perhaps difficult to organise, but easy to play. It is made up of simple, specific discourses, ideal for speakers who wish to embrace the world; it conveys hope, therefore...
Luciano Berio