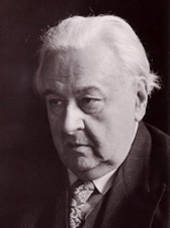 Joseph Marx
Castelli Romani
Short instrumentation: 2 2 2 2 - 4 2 2 0 - timp, perc, hp, cel, glock, mand, str
Dedication: der Italien-Kameradin Anna gewidmet
Instrumentation details:
1st flute
2nd flute
1st oboe
2nd oboe
1st clarinet in Bb
2nd clarinet in Bb
1st bassoon
2nd bassoon
1st horn in F
2nd horn in F
3rd horn in F
4th horn in F
1st trumpet in C
2nd trumpet in C
1st trombone
2nd trombone
timpani
percussion
glockenspiel
mandolin
harp
celesta
violin I
violin II
viola
violoncello
contrabass
Marx - Castelli Romani for piano and orchestra
Hörbeispiel
Werkeinführung
Composed 10 years after his first piano concerto, Marx was inspired to write the second, the "Romantic," by his impressions of Roman ruins and the historical associations the surrounding landscape evoked. The piece is in E-flat major, a sign of the composer's conviction that tonality still had more than enough potential to withstand rejection. The music has no antiqued patina; it is bright, sunny, airy, occasionally wistful – Romantic, in other words. Its three movements (Allegro, Andante, Presto) bear distinct references to Villa Hadriana, Tusculum and Frascati.